Every feature has been designed thoughtfully and implemented with care to build towards successful learning experience.
Whiteboard
Shape and convey your ideas with Congrea's whiteboard. Neatly divide your work into multiple pages to preserve context. Add text, go free-form or use standard shapes with options to resize and color.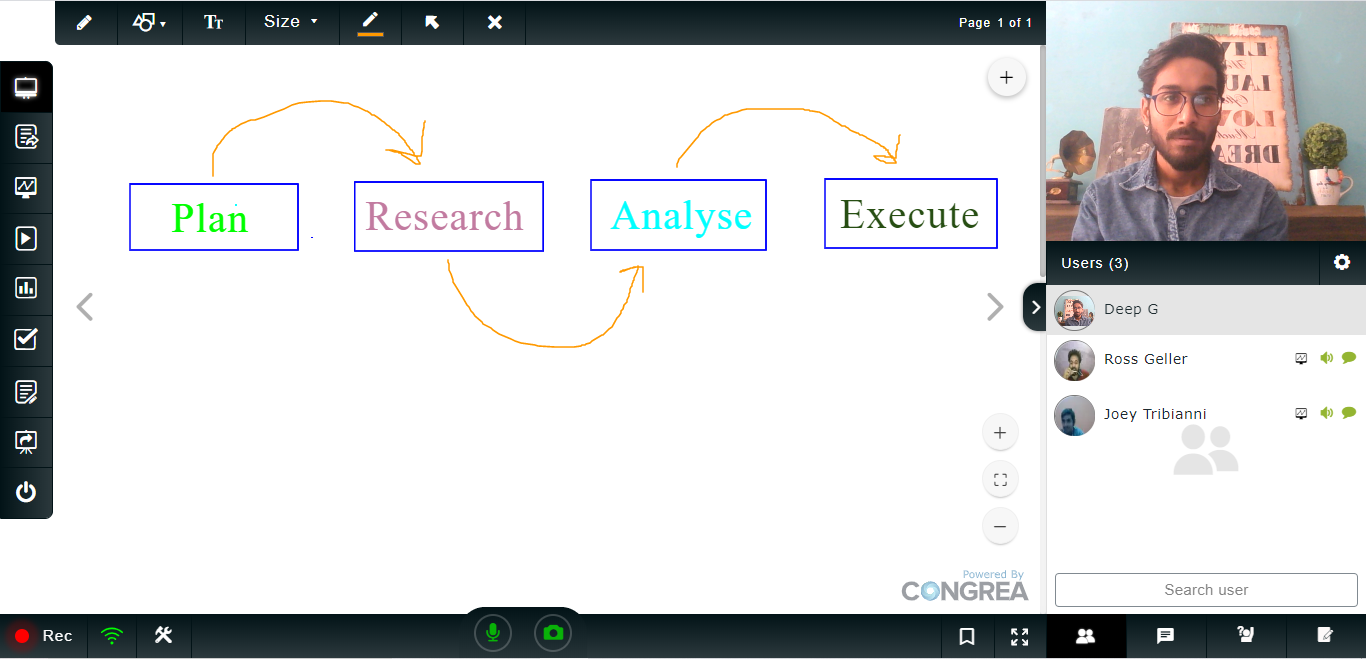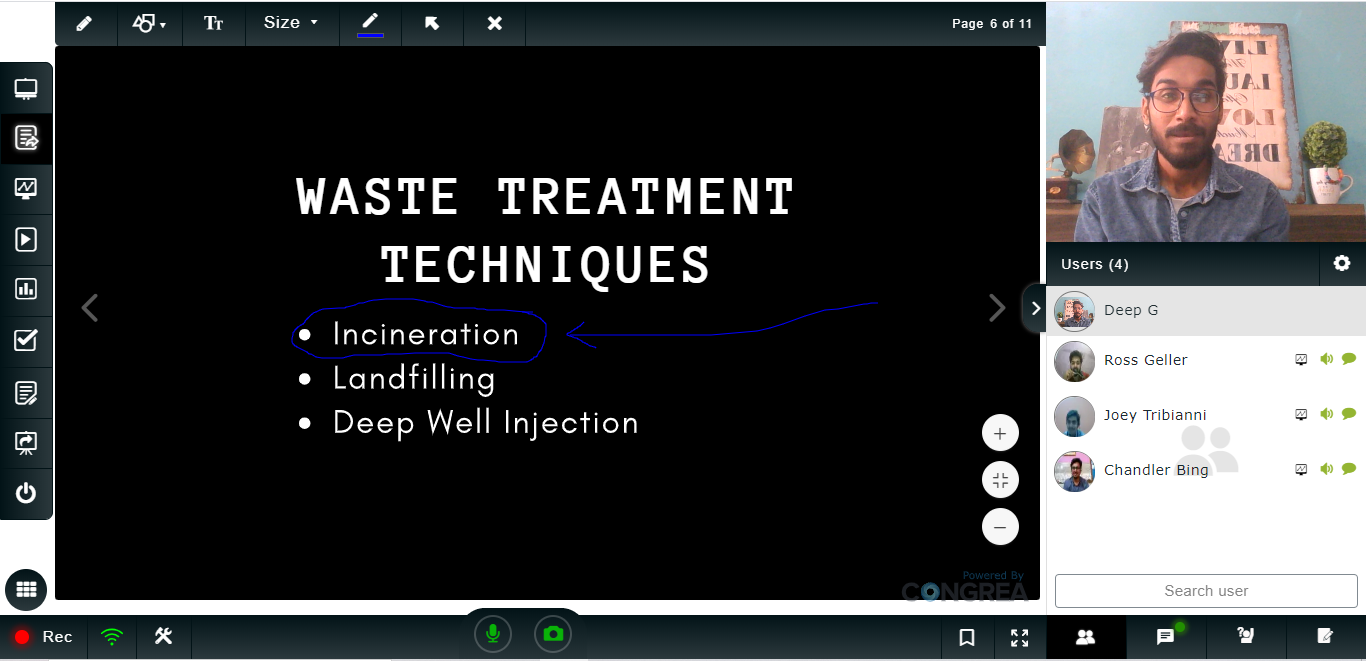 Document sharing and annotation
Share and annotate your documents with Congrea's document sharing feature. Use the document dashboard as a planner by managing and sequencing your uploaded documents. Store the documents as a cloud repository available on the dashboard for your on-going and upcoming sessions.
Annotate the document with shapes and text. Document types supported include .pdf, .ppt, .docx, .gif, .txt, .xml, .pptx, .doc, .jpg and .png. 
Online Video Sharing
Upload and share online and YouTube videos using URL. Control the pace of the shared video to suit your audience.
Manage the repository of uploaded videos through the video dashboard.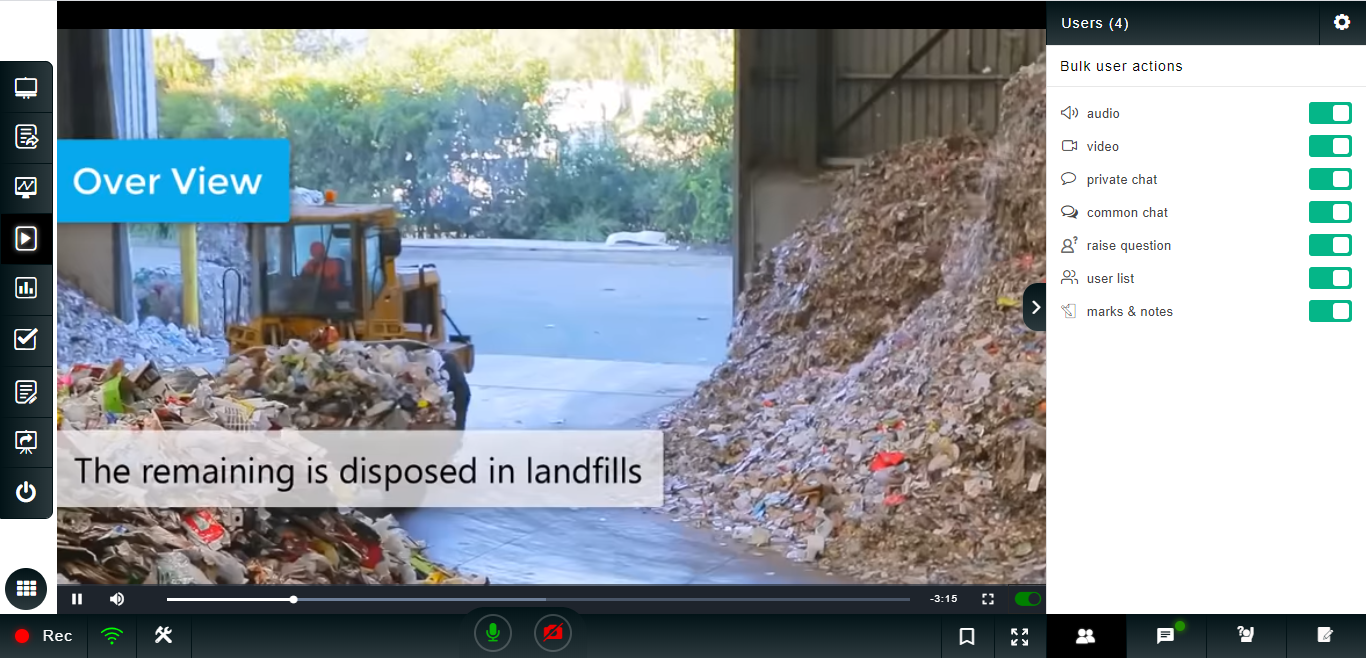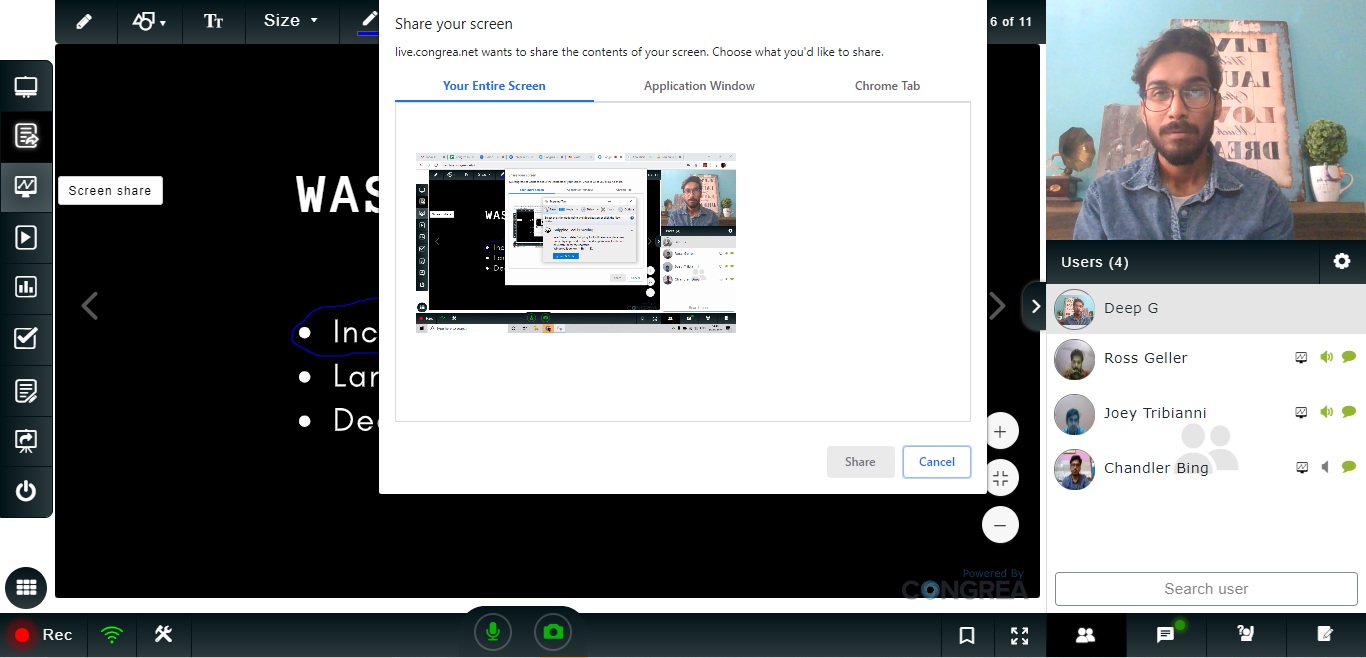 Screen Sharing
Share your full screen or just a window at high resolution with image-based screen sharing feature of Congrea. Request any of the learners to share her screen with you which you can further share with the whole classroom.
Poll
Conduct a poll anytime during the classroom session. Collecting / analysing feedback / opinion from learners was never simpler. View the real-time results in graphical or tabular formats and save for later use if needed.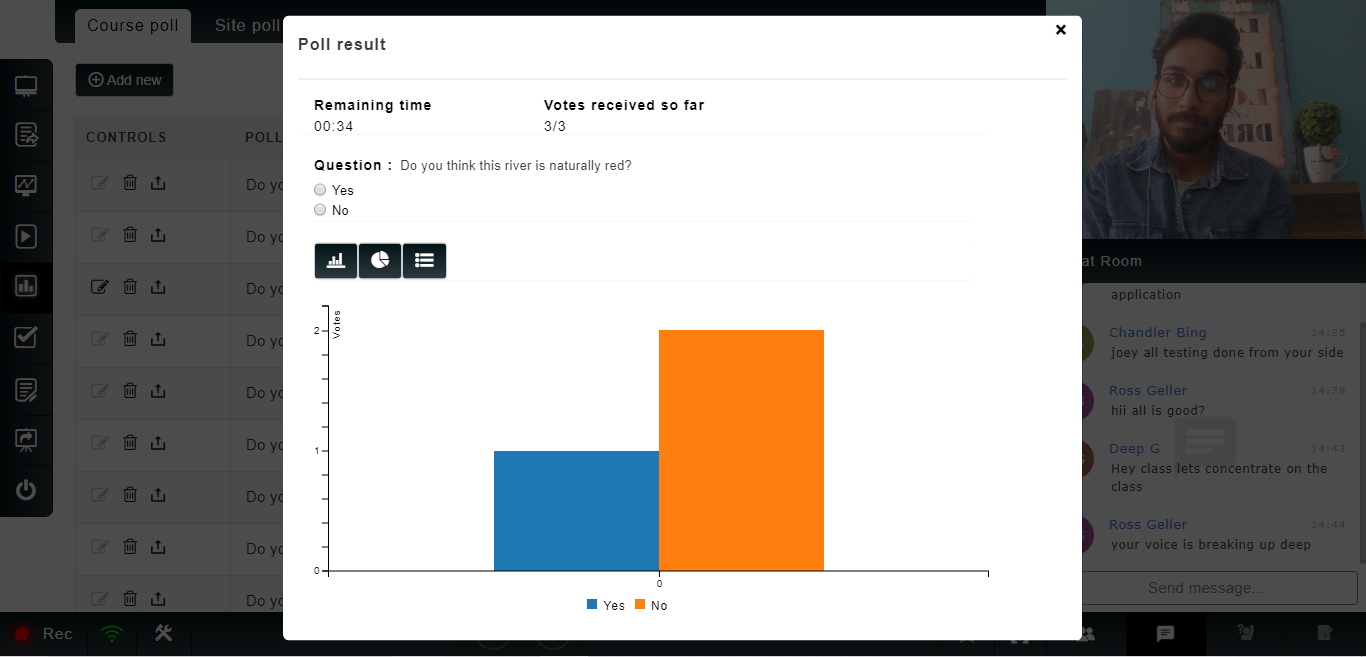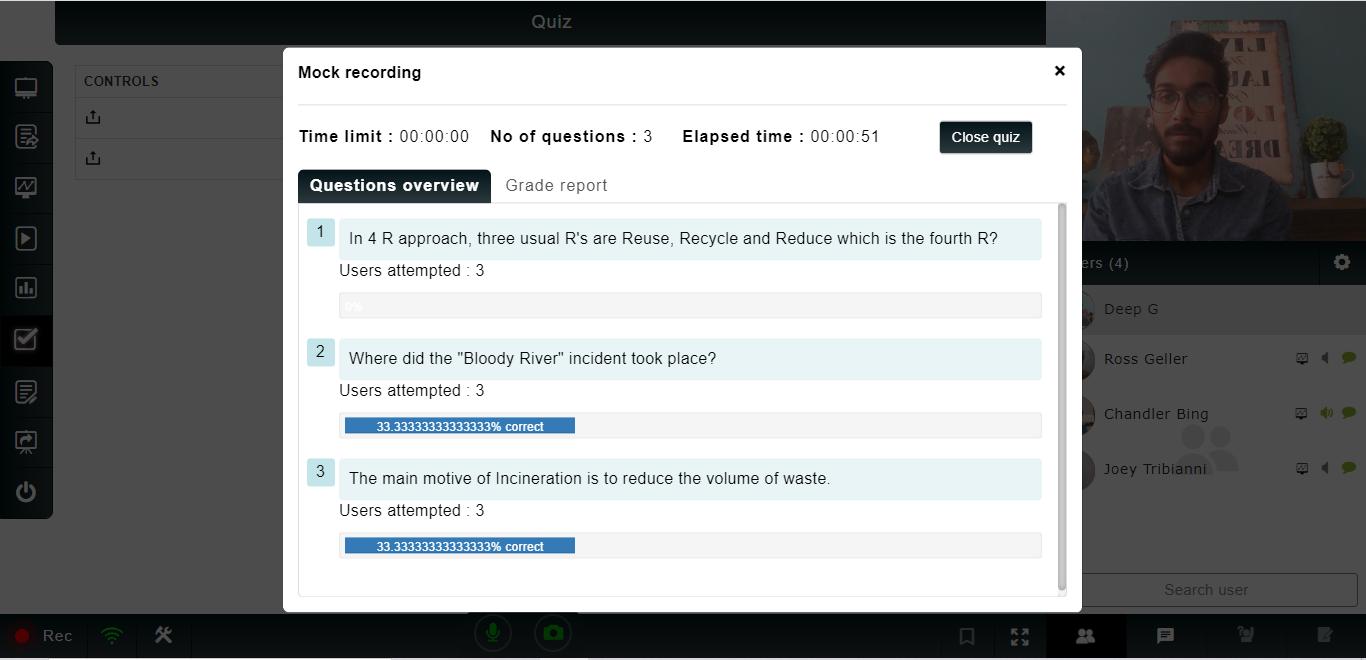 Quiz
Involve your participants in an interactive session by running a quiz on your Congrea along with other LMS such as Moodle. Import quiz from your current LMS and assess the learning and knowledge of your learners.  
Audio Visual Interaction
Want to make your session more interactive? Just enable your camera and microphone and enhance the user involvement by imparting your knowledge directly through your live video.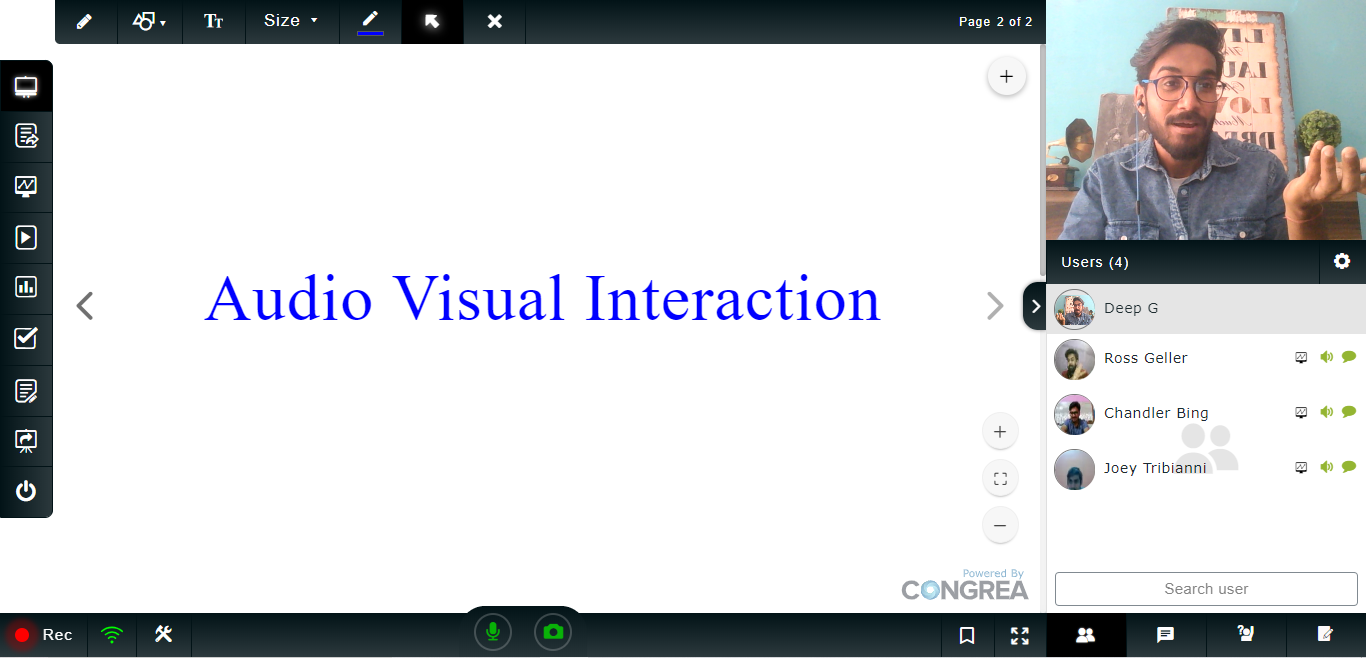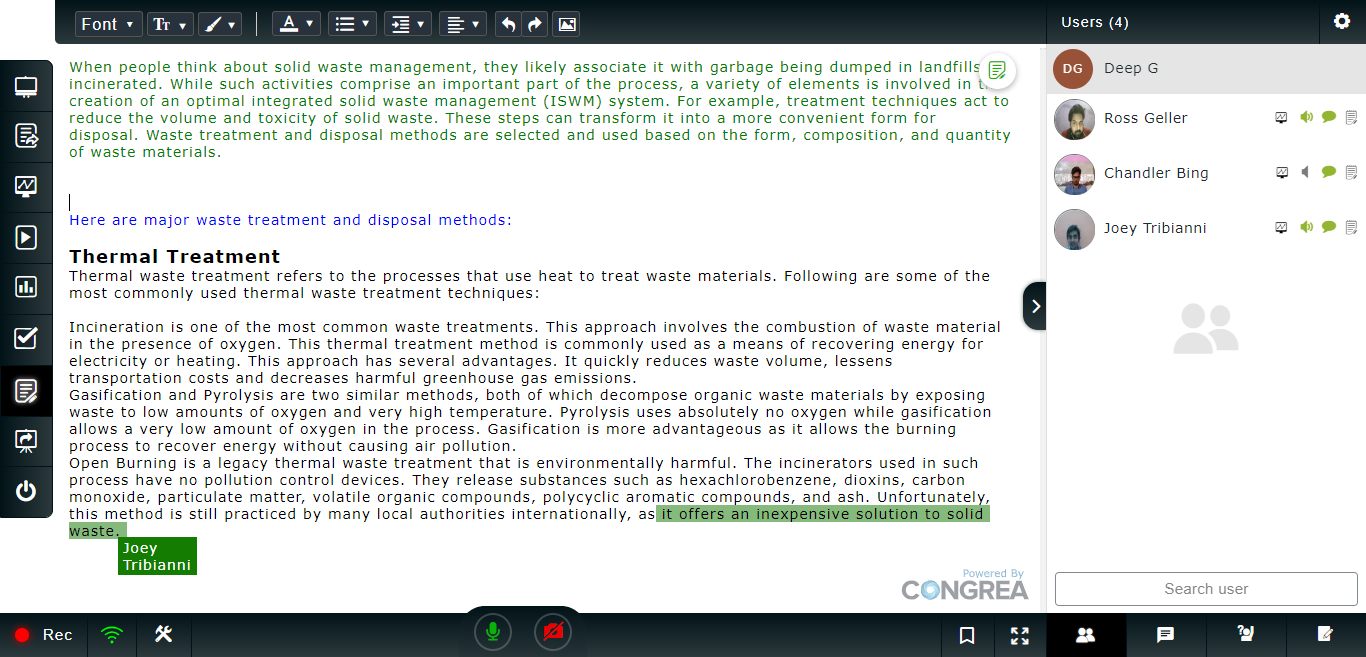 Collaborative Real-time Editor
Engage your learners through a collaborative text editing session wherein, the content is synchronised in real time. You can have a selective user engagement along with an easy recognition through the notification of usernames.
HTML5 Presentation Sharing
Share high quality online presentations hasslefree through Congrea. Use the URL of your HTML5 presentation and share it anytime during your class.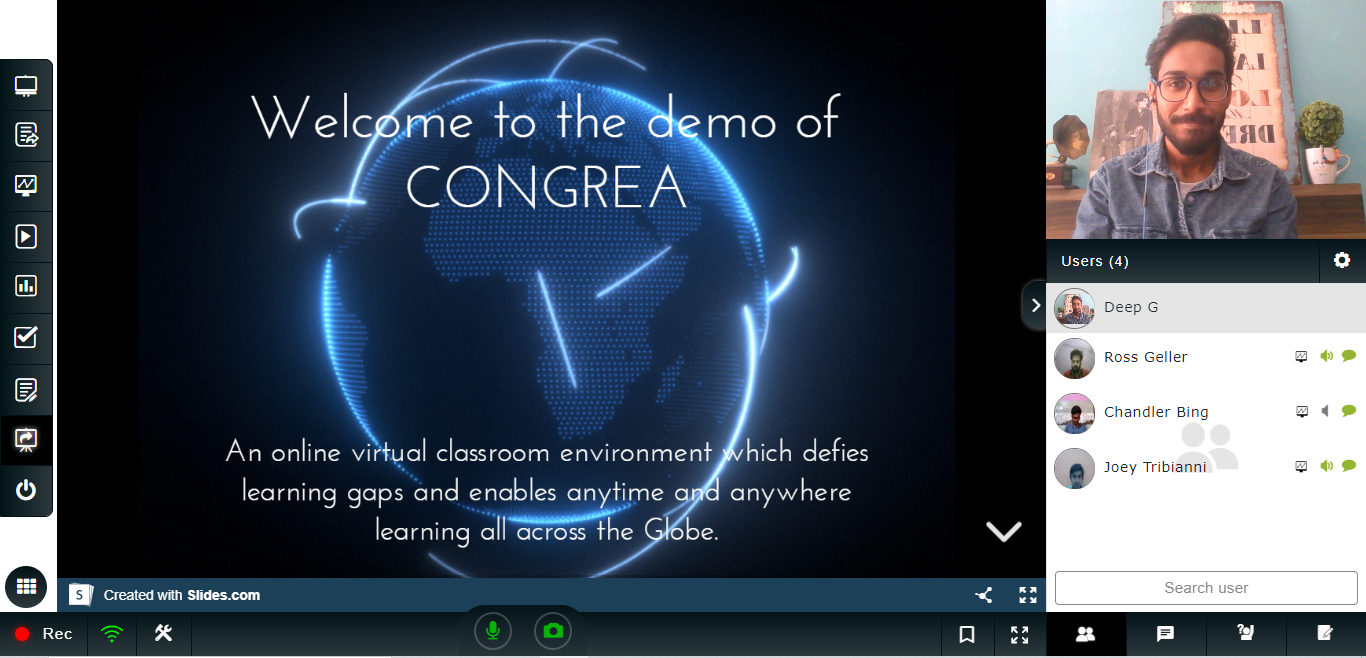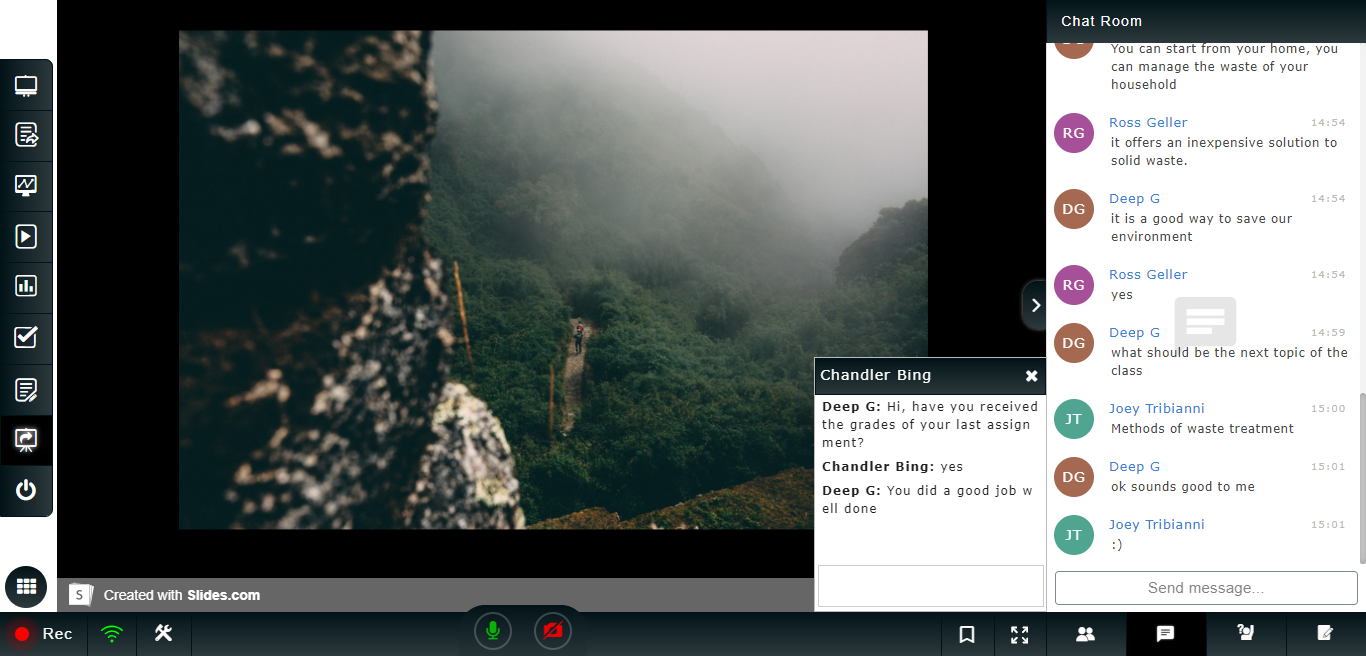 Private and Public Chat
Want to discuss something really important during class, Congrea understands the need of private as well as public chat and enables you to interact with your fellow participants during the session.
Ask Question
A completely new feature that allows both presenter and learners to post their queries during and after the session. To make it even more useful the questions automatically get linked with the ongoing context of the classroom. The posted questions can be answered by anyone anytime, also comments can be added over the answers. The presenter has the final authority to mark an answer as the final answer of a question. The feature has been designed to promote collaboration and interaction in the classroom for both online and offline modes.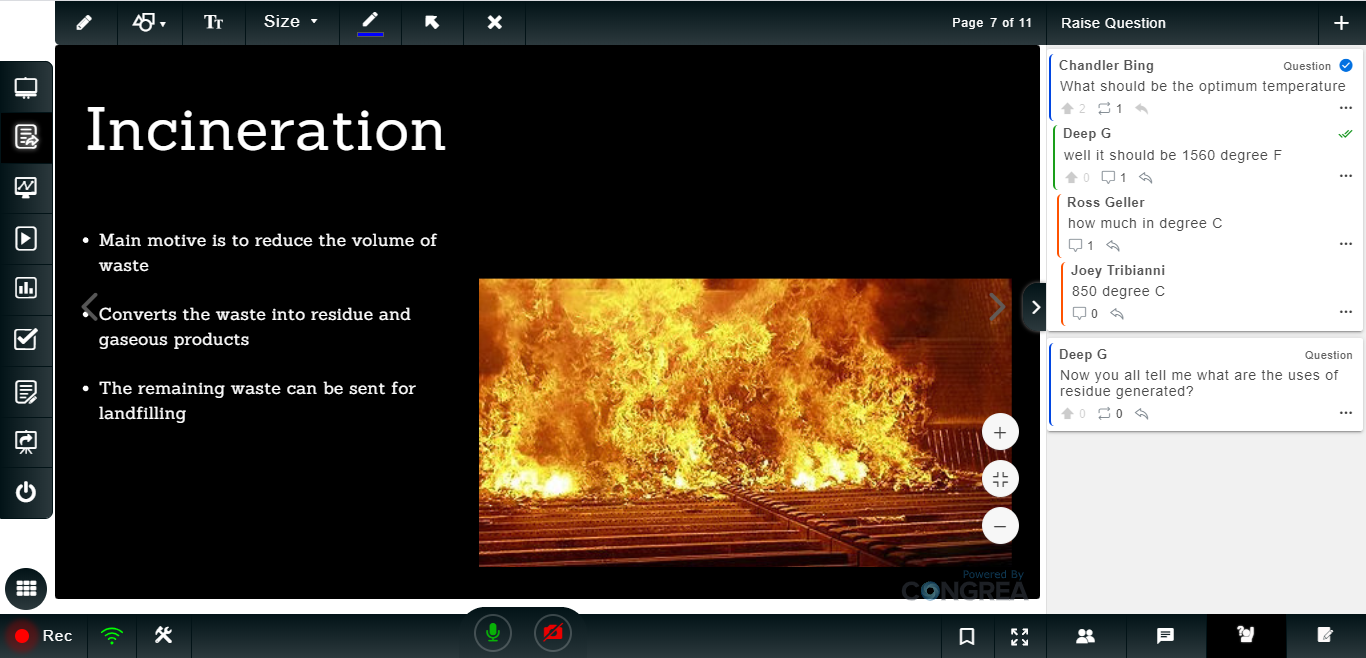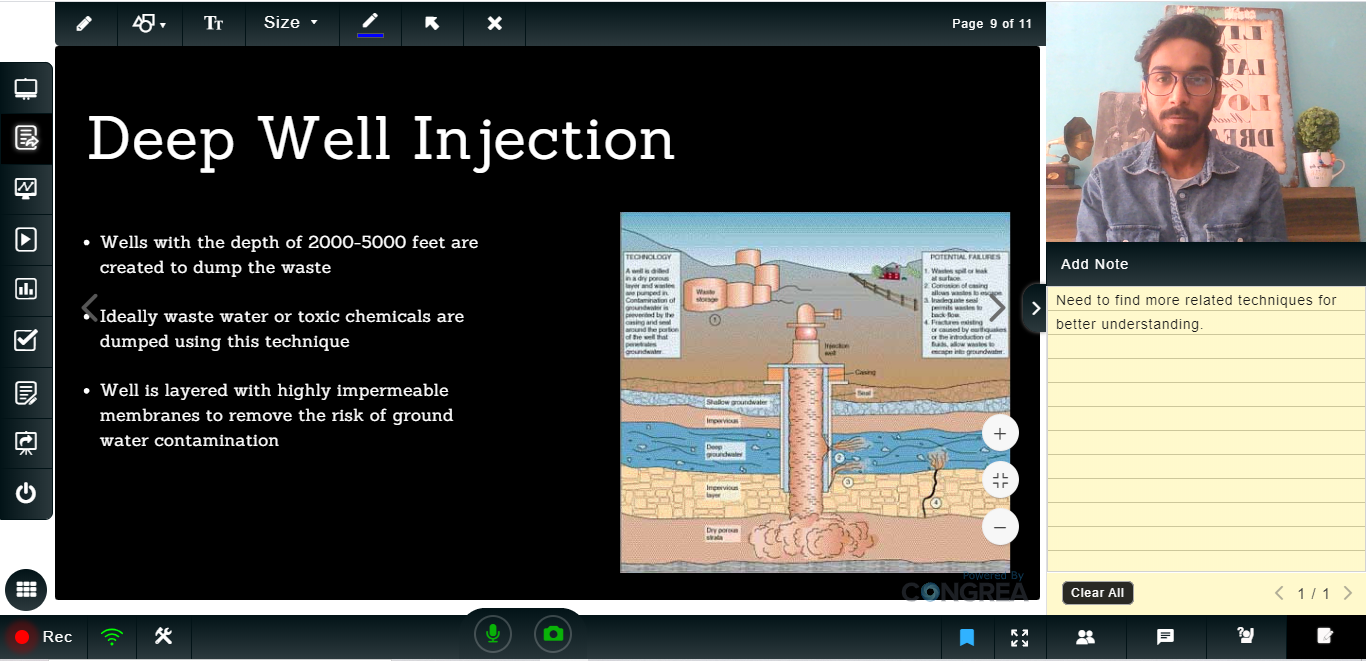 Notes and Bookmarks
These are two different features that enables the user to add personal notes and pin any ongoing context while attending the session or viewing the recording. Both these features are available as yellow coloured pins on the recording slide-bar for better navigation.
Session Recording and Playback
Through with a session? Wanna save it? Well Congrea automatically records and saves your session for further self paced learning of your learners. We never compromise with the quality and the same is applied in our recordings, the slidebar gets pinned with different colours to help the viewer recognize changing context, added bookmarks, notes and questions posted in the ask question feature.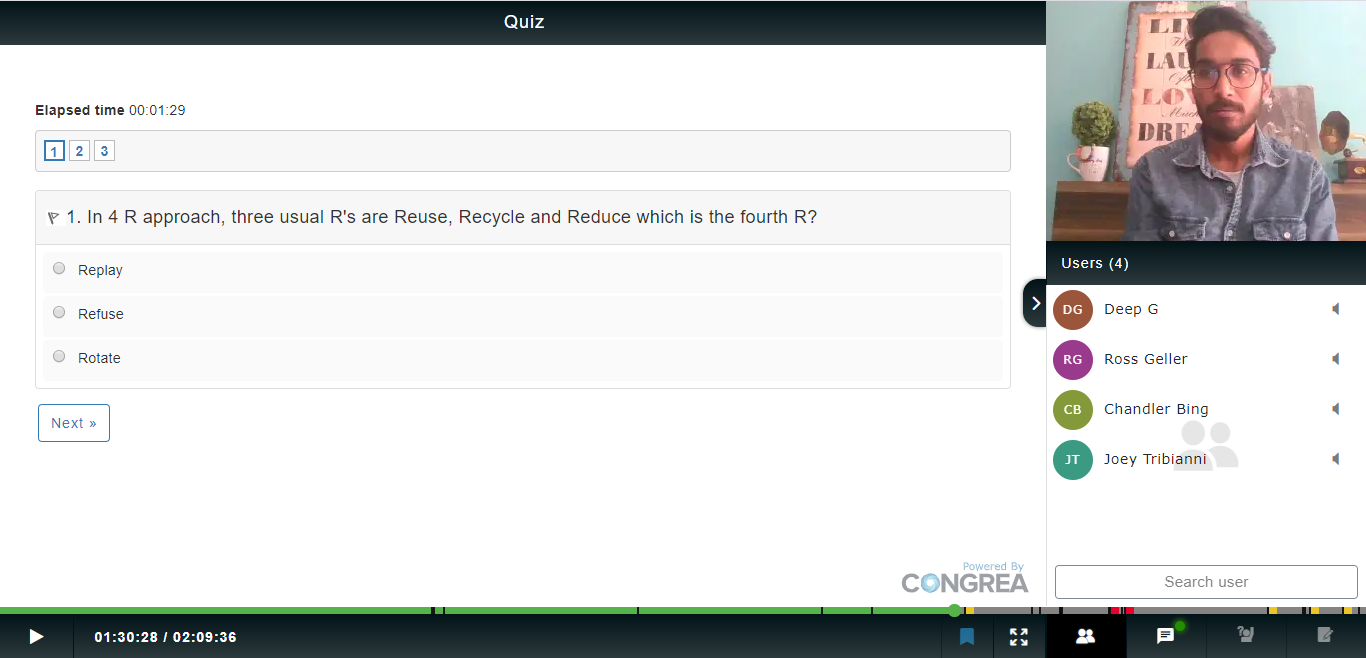 Is that it ? Well not really !